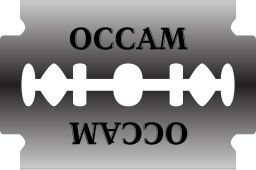 Brasington's Corollary to Occam's Razor
Occam's Razor:
Original: Plurality must never be posited without necessity.

Corollary: Never postulate a complexity when a simplicity will do.
Brasington's Corollary:
Never postulate an ontologically existent entity when an emergent property will do
William of Occam's famous "razor" is often restated as KISS - Keep It Simple, Stupid. It's a very helpful idea when seeking a deeper understanding of a situation.
I have formulated the above corollary (a statement which follows readily from a previous statement) which I have found useful. For example:
Instead of Time, there's Change (Time is Only an Illusion)
Instead of the Alayavijnana, there're Consciousnesses and Communication Protocols (The Alayavijnana Is Just Like the Internet)
Instead of Dark Energy, the so called Constants are not really Constant (Dark Energy - NOT)
Instead of God, there's Gravity (We Are Sunlight Animated Stardust)
Instead of God, there's Evolution
Instead of Entities, there're Limited Views of the Universe
Instead of Entities, there're Conventions and Concepts
Instead of Entities, there're Streams of Dependently Arising Processes Interacting (SODAPI)
Instead of Nouns, there're Slow Moving Verbs
Instead of Self, there's Self-Referential Sensing
Instead of an Imortal Soul, there's Fear of Death plus Self-Referential Sensing (Divided Minds, Specious Souls)
Back to Essays
---
Permalink http://leighb.com/corollary.htm [] Hosted by

Leigh Brasington /

/ Revised 15 Aug 20