Upcoming Workshops/Seminars for Back to Basics,
Back to the Basics of Sponsorship, How to Listen to God, & A.A. History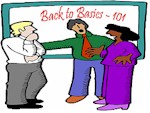 During 2022 Wally P. may be conducting seminars and workshops throughout

the United States and around the world via ZOOM.
The Back to Basics Alcoholics Anonymous Beginners' Meetings were first taped during November - December, 1995 in San Manual, AZ. On four successive Friday nights, the entire Copper Valley Group took the Twelve Steps as part of their regularly scheduled A.A. meeting. Tapes of this first Back to Basics program are still available from:
B Serene Audio (843) 245-0183.
From that humble beginning, Back to Basics has grown dramatically and the four one-hour sessions have been presented at various locations throughout the United States, Canada, and around the world.
.


The Back to Basics Not-For-Profit Foundation Needs your Help!
If Back to Basics has saved your life, we ask that you now consider saving Back to Basics' life. As has been the case for the past 15 years, we continue to operate at a deficit. Please consider helping us out, so we can expand our outreach to additional prisons, half-way houses, and recovery centers throughout the United States, Canada and around the world.
Click here for more information on the Back to Basics Foundation and what we're working on. Thank you.
For a one time donation click


Your information is secure with us. We do NOT share our friends and supporter's information -- never have... never will!

To contribute to the Back to Basics Foundation using check or money order using a printable form
click here to download the PDF
These links will open a new window.
Unless otherwise noted, all flyers are Word documents with 0.75"margins top, bottom, left and right
For a list of all past seminars dating back to 1998 click here!

Home
Online Shopping Carts - Please Note: We have added additional Priority shopping carts to separate the different programs offered!
.
DVD's (Back to Basics 101, The James H DVD's), CD Workshops (Back to Basics, Back to the Basics of Recovery, Sponsorship, 4 Spiritual Activities, Nutrition) and others have been moved to the "DVD's, CD's, and Other Digital Media" Bookstore.
.
Seminars · Back to Basics Bookstore (U.S. Only) · Back to Basics Priority Mail (U.S. Only) · Back to the Basics of Recovery Bookstore (U.S. Only) · Back to the Basics of Recovery Priority Mail (U.S. Only) · How to Listen to God Bookstore (U.S. Only) · How to Listen to God Priority Mail (U.S. Only) · DVD's, CD's, and Other Digital Media · Quantity Discounts (Media Mail-US Only) · Canada Bookstore · Overseas Bookstore · Donations
Materials
B2B Book · B2B Program · B2B Recovery Model · HTLTG Book · HTLTG Program · Printable Mail/FAX Order Form
Assistance
Back to Basics Seminar Information · Upcoming Seminars · Back to Basics Meetings · Treatment Centers · Sharing Partners · Contact Info
Information
Testimonials · Articles · History · Links · James H · Wally P · Dr Bob Archives · Southwest Archives · Feedback · B2B Foundation
The following are keywords we use to help people find us:
Wally P, back to basics, oxford group, alcoholism, addiction, twelve steps, 12 steps, bill w, dr bob, james h, how to listen to god, back to the basics of recovery, back to the basics of nutrition, the greatest spiritual movement, four spiritual activities, 4 spiritual activities, oxford group, recovery, recovery dvds, recovery books, recovery cds, back to the basics of sponsorship, basic sponsorship, basic recovery
Copyright © 1997-2023 Back to Basics Foundation - over 25 years of service since April 1997
This page last updated 3/6/2023